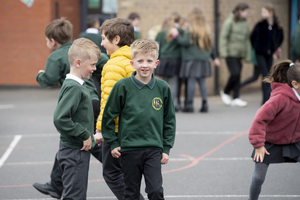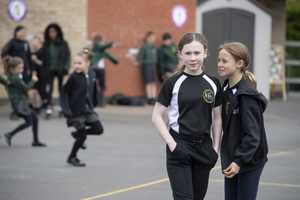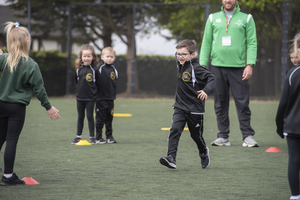 Principles
East Hunsbury Primary School's policy is that all children should wear clothing that is in keeping with a purposeful learning and positive ethos. We also believe that a uniform can provide children with a sense of community and that certain school activities are supported by specialised and appropriate clothing, including organised events outside normal school hours, Physical Education and the Arts. For children with SEND including sensory needs, careful consideration will always be given to the most suitable uniform for them and adaptations, where necessary, and agreed with school and home, may be made.
Aims
Our policy is based on the belief that a school uniform:
promotes a sense of pride in the school
engenders a feeling of belonging
is practical and distinctive
identifies the children with the school
is not distracting in class (as fashion clothing might be)
makes children feel equal to one another in terms of appearance
reflects the sense both of community and of diversity that the school takes pride in
is regarded as suitable, and good value for money, by the vast majority of families
Children are to attend school in/with the following items, in a clean and good condition:
Main School uniform

PE Kit

Grey trousers, skirt or pinafore

Plain black jogging bottoms (logo or non-logo) or plain black leggings (non-logo)

Green, white or yellow polo shirt (logo or non-logo) Reception to Y5 only

Plain black shorts (non-logo) or black and white shorts with logo

Green E.H.P.S logo sweatshirt, cardigan or logo fleece jacket or plain bottle green sweatshirt/cardigan

Plain black skort (non-logo) or black and white skort with logo

In the summer term and up to October half term: Grey knee length shorts or green-check summer dresses.

Plain black t-shirt (non-logo) or black and white t-shirt with logo

White shirt/blouse and tie – Y6 only

Plain black trainers or white trainers (no bright laces, logos or soles).

Flat-heeled black shoes that are polishable (not trainers or fashion shoe e.g. vans, Nike, canvas etc.) Sensible, plain black ankle boots are also allowed. Socks - grey, white or black. Tights - grey or bottle green

Plain black socks

Jewellery: a pair of small gold or silver studs / sensible, non-electronic watch.

Plain black sweatshirt (non logo) or black and white top with school logo or green E.H.P.S logo sweatshirt/cardigan or plain bottle green sweatshirt/cardigan

Plain hair bands, clips and bobbles are allowed in school colours (bottle green, yellow or black). Children are not permitted to wear brightly coloured or fashion hair accessories.

Jewellery: all jewellery must be removed prior to the school day.

Coats: The school encourages children to spend as much time outdoors as possible, even in inclement weather conditions. Therefore, coats that are suitable to the weather conditions are required. There are no restrictions as to type of coat worn, however it is strongly advised that they are waterproof in nature.
Where to buy our uniform
Logoed uniform/PE Kit can be purchased from the Jules @ Home website or by emailing Jules@Home or from Trutex directly. If you order direct from Trutex, please use LEA00464PA in the LEA code box. Some elements of our uniform can be purchased from Jenny Black at SJS Uniforms
If you are purchasing your own PE kit from a retailer of your choice e.g. Tesco, please ensure that all items are PLAIN black.
We also regularly sell pre-loved uniform. For more information about this contact Friends of East Hunsbury Primary School
If your child is in receipt of the Pupil Premium Grant, they will be allocated £50 which can be used towards the cost of trips, clubs and resources such as school uniform. For more information about this please contact Mrs Long our School Business Manager.
What will happen if my child comes to school wearing the incorrect uniform?
If your child does not come to school in the correct uniform their class teacher will phone home to ask you to either bring in the correct item of uniform or ensure that they wear the correct uniform the next time it is required. If necessary, a timescale might be agreed to allow you to acquire the necessary uniform.
If your child repeatedly does not wear the correct uniform then a member of the Senior Leadership Team will call home to discuss further and appropriate sanctions may be imposed.
It is our priority to always work closely with families to ensure that there are no barriers to wearing the correct uniform and we will support in any way that we can.