Curriculum Maps
National Curriculum - Parent Guide
Our Curriculum
Please refer to the Knowledge Organisers in the side panel opposite to view curriculum content currently being taught in each Year group.
How we teach Writing at East Hunsbury Primary School
Our aim at East Hunsbury is for your child to leave us as a confident, capable and creative writer that can write for a range of audiences and purposes.
Without question, writing is a challenging skill to master so that is why we have invested a lot of time into our curriculum and getting how we teach it just right.
At East Hunsbury Primary School, we use Talk for Writing as our way to teach writing from the moment they start school with us, right through until Year 6. Talk for Writing is a nationally, and internationally, recognised process which was created by Pie Corbett and has proven to have significant impact on developing children as writers. Click here to watch a short YouTube video explaining 'What is Talk for Writing?'
Talk for Writing is impactful because it is based on how children learn and is rooted in research and best practice. The approach moves children systematically and supportively from being a dependent writer through to an independent one and complements how we teach reading – they both strengthen one another. Oracy, reading and being influenced by quality literature, are central to the process. Talk for Writing is inclusive which means that all children can learn to be a writer and it also supports children with English as an Additional Language by immersing them in our language and scaffolding the acquisition of it.
The process of Talk for Writing is based on three phases:
| Phase | Description |
| --- | --- |
| Imitation: | This is where children get to explore and learn how a text or story has been written. |
| Innovation: | Here the children get to have a go at using the skills that they have learnt in the imitation phase and use them to write their own version. During this stage the teacher will still support, help and guide the children through shared and guided writing. |
| Independent Application: | Now, the children get to have a go all by themselves using all of the skills that they have learnt and practised. As teachers, it is here that we find out what they have learnt and can now do all by themselves. We sometimes call this the 'hot' task. |
Here is an image showing the Talk for Writing teaching sequence in a little more detail.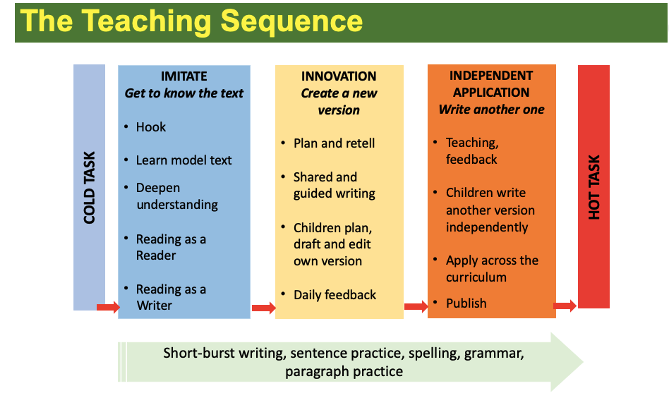 As you will see from the image above, at the start of a unit, the children complete a task (we sometimes call this the Cold Task). This activity is to help the teachers find out what the children need to learn. We use this to prioritise what we need to teach and then, when we compare it to the work at the end of the unit that they have done on their own (hot task), we can see the progress that they make.
Our English leader, and Deputy Head, is also an accredited Trainer and Consultant who has vast experience of supporting schools, including many in Northamptonshire and in our Trust, with this approach. More information about Talk for Writing can be found here: https://www.talk4writing.com
Our Writing Curriculum
At East Hunsbury Primary School, we have developed a curriculum which is progressive and cumulative which means that it has been carefully written so that your child's learning will build over time. We have made sure that your child will have regular opportunities to learn new skills but to also revisit and apply ones that have been previously taught – we call this interleaving and interweaving our knowledge and skills throughout their primary journey.
Our curriculum ensures that during each writing unit your child studies they will explore high quality texts and literature as we believe that it is important that they are influenced by the finest writing we have and they learn how to plan, draft, edit and publish their work.
Writing is taught daily across the school and additional spelling and grammar lessons are planned in when, and where, necessary.
An example of our Writing Long-Term Map can be found in the side bar opposite.
EYFS
From the moment your child starts with us, they will be drowned in a world of rich and wonderful stories. They will quickly start to learn and play with them and use this to inspire their own story telling and story writing. We hope that in the first week or two they will be asking you to join in with stories such as The Little Red Hen and Mr Wiggle and Mr Waggle! We believe that the first year of a child's schooling is incredibly important as it is where we lay the foundations for a love of story and confidence as a writer. We continually strive to make sure that this year is the best it can be!
Grammar
Grammar is taught in context which means that we look at the grammar that is used in real writing and learn how to use it ourselves. Sometimes, there will be a need for children to have a separate grammar lesson but usually this will be because of an area of grammar which they need to get better at using in order to improve their writing.
Handwriting
At East Hunsbury Primary we used a scheme called Kinetic Letters to teach our handwriting. We believe that handwriting and presentation are very important and place high expectations onto our children in this area. Again, from day 1 when your child joins us, they will start their handwriting journey and a lot of their learning will focus on making sure that they have the core physical strength needed to write and master the correct pencil grip. We also have special handwriting books which the children use for English and this helps to support their letter formation.
More information about Kinetic Letters can be found here: https://kineticletters.co.uk
Spelling
In Key Stage Two, we teach Spelling using the Sounds-Write approach.
Remote Learning
During any remote learning we teach our English curriculum online. Our teachers have carefully adapted their teaching strategies to ensure that your child's learning can continue in a similar way to as it they were in class. We use a careful balance of live lessons, Talk for Writing booklets and independent tasks. Please see our remote learning strategy which is on the website for more information.
Enrichment - Every day is a writing day
Our ambition is to expose our children to a rich and varied array of writing opportunities. We purposefully plan opportunities that will allow the children to apply the skills that they have learnt from their writing units but equally allow them to be the writer that they want to be.
Our annual work with the Royal Shakespeare Company, author visits, live lessons (from Pie Corbett) drama for writing and free-writing / invention sessions all contribute to the writing enrichment that we provide at EHPS.
How is writing assessed?
Teachers work closely together to check and mark writing. In particular, they come together 3 times a year to look at writing and assess it. We also do this checking with other teachers as part of our Trust.
We also take part in something called Comparative Judgement which is where, every year, each year group takes part in a creative writing activity and then all of the writing is compared to each other and nationally. This helps us to see how the children are getting on in school and on a wider basis.
In Years 2 and 6 we assess the children against Nationally written exemplification materials.
How we teach Reading at East Hunsbury Primary School
Our aim is that your child will leave East Hunsbury as a fluent, competent reader who develops a love of reading for life. We are a school that is built on books as they are woven into every aspect of school life including throughout our curriculum!
During your child's time with us, they will read a rich variety of fiction and non-fiction literature ranging from: graphic novels, classic texts and magazines to comics, poems and modern stories. It is our intention that every child at East Hunsbury will connect with a book and has the opportunity to see themselves represented through literature.
We see learning to read as a vital life skill but also an opportunity to develop children's linguistic skills in order to be able to discuss, evaluate, reflect, compare, critique and engage in meaningful conversations about a wide range of literature in order to form an opinion.
Reading opens up a world of possibilities and makes the impossible possible. As such, we want your child to develop such an enjoyment for reading that they leave as avid readers choosing to read for pleasure and to read to learn.
Early Reading
At East Hunsbury Primary School, we place significant importance on Early Reading as we know that fluent readers will learn more, because they can read and gain knowledge for themselves. Throughout this document you will read about how early reading is taught and development but if you were to visit our school you can expect to see that:
direct, focused phonics is taught every day in Reception and key stage 1
children read from books with the sounds they know, while they are learning to read
teachers and teaching assistants provide extra practice through the day for the children who make the slowest progress (the lowest 20%)
all children in Year 3 and above can read age-appropriate books
teachers instil in children a love of literature: the best stories and poems
We work in close partnership with parents to support them in supporting us in their child's reading journey.
How do we teach reading?
There are two strands to teaching reading: word recognition (phonics) and language comprehension (understanding the words that they read).
How do we teach word recognition? Phonics?
At East Hunsbury Primary School, we teach phonics using the linguistic phonics programme, Sounds-Write. Sounds-Write is effective in teaching pupils to read, spell and write because it starts from what all children know from a very early age – the sounds of their own language. Then, using a very systematic approach, it teaches them how these sounds are coded within our writing system.
Across the Foundation stage and KS1, children have a daily phonics lesson following the Sounds-Write programme. The structure and simplicity of Sounds-Write lessons make it a programme accessible to all learners and helps them to make excellent progress with their reading and spelling. The lessons are carefully structured and consistently applied across the Foundation Stage and Key Stage One.
The children are taught to decode and encode through explicit teaching and practice of these skills and concepts:
Skills
Blending
Segmenting
Phonic Manipulation
Concepts
letters are symbols that represent sounds
sounds can be spelled using 1,2 3 or 4 letters
the same sound can be spelled in more than one way (rain, break, gate, stay)
many spellings can represent more than one sound (head, seat, break)
Sounds-Write provides opportunities for practising these skills and concepts on an everyday basis until pupils achieve the automaticity required for fluent reading and spelling.
Your child will start their Sounds-Write journey as soon as they begin school with us. We are committed to unlocking the world of reading as soon as we can. They will bring home a phonetically decodable book and it is here where their reading adventure really begins. It is magical to watch how children start to realise that the letters on the page represent sounds and overtime how those sounds blend together to make words!
Phonics Screening Check
At the end of year 1 your child will sit a National phonics test (this is called the Phonics Screening Check) where they are asked to read (decode) 40 words. We report their score to you at the end of the year. Usually, there is a pass mark of around 32. More information about the Phonics Screening Test can be found here.
When your child is ready and they are developing a secure grip of phonics (usually by Year 2) they will be given two books – a phonetically decodable one and a longer book – often one with chapters in. We call these our 'bridging books' as they are the bridge onto becoming a fluent reader who can tackle any book. This also starts to help their comprehension as the stories that they begin to read are often a little more challenging.
Here is a diagram of your child's reading journey in books that they will experience (RfP means Reading for Pleasure):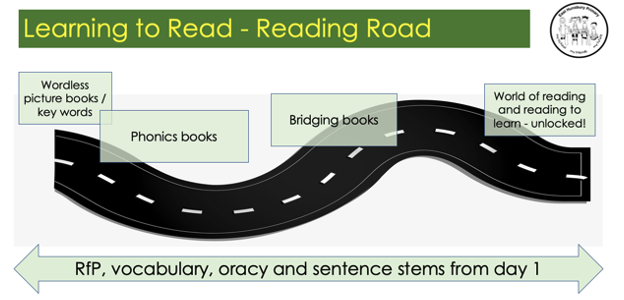 How do we teach comprehension?
At East Hunsbury Primary School, we use Talk for Reading as a process to teach comprehension. It is impactful because it is based on research of how children learn to read and rather than teaching discrete 'skills,' it develops children's comprehension strategies in order for them to be able to independently understand a text deeply. Talk for Reading also complements our writing approach (Talk for Writing) and together they strengthen the children's learning in both areas.
The main focus of the Talk for Reading strategy is that through talking and thinking we are able to understanding a challenging text with the aim that deep thinking becomes a habit of the mind.
Even in EYFS, we will start to discuss and talk about our books including the pictures so that we not only develop children's phonetic skills we also start to develop their comprehension ones too.
Children are encouraged to use reading sentence stems to help structure their answers e.g.
I think that…
The reason I think this is because…
In my opinion, …
The evidence to support my opinion is…
I like… I do not like…
This reminds me of…
Curriculum
Like with the writing curriculum, the Talk for Reading comprehension curriculum is sequenced so that it is cumulative, whereby the children's knowledge is constantly revisited and built upon. It has also been designed so that, where appropriate, the texts chosen broaden and strengthen the knowledge of the Trust's Wider Curriculum.
Furthermore, the texts used have been carefully selected to ensure that there is a balance of classic, modern, information and culturally diverse ones. An example of our Reading Comprehension Long Term Map can be found in the side bar opposite.
Enrichment – Every day is World Book Day!
Our ambition is to drown our children in a sea of wonderful, engaging and memorable reading experiences from: visiting authors and illustrators, participating in World Book Day, visits from the Royal Shakespeare Company and having the opportunity to attend book clubs, book swaps and read to a variety of children and adults across the school. For us, everyday should be World Book Day! For us at East Hunsbury, reading culture is as important as phonics and comprehension.
Remote Learning
During any remote learning we teach our reading curriculum online. Our teachers have carefully adapted their teaching strategies to ensure that your child's learning can continue in a similar way to as it they were in class. Phonics is always taught live on a daily basis and comprehension is taught using a careful balance of live lessons and independent tasks. Please see our remote learning strategy which is on the website for more information.
SEND and Disadvantaged Children
We believe that the Talk for Reading Process is inclusive and through careful scaffolding all children will be able to achieve and make the progress which they are capable of. All pupils will be appropriately supported throughout the phonics and comprehension lessons so that they can access all of the learning; consequently, ensuring that a ceiling is not placed on any child's educational opportunities in reading.
At East Hunsbury Primary we believe that quality first teaching should always be the priority when addressing children's needs. However, we do employ numerous research-based interventions to support our early or developing readers because we recognise that sometimes, children need a little help on the way. Here are some of the interventions that we run:
Herts for Learning Reading Fluency in KS1 and KS2
Sounds-Write intervention programme, diagnostics and phonics Club
1:1 readers
YARC as an assessment tool for diagnosing areas for development and focussed teaching
Specific pre-learning and targeted work for the lowest 20%
EAL book club
Specialist Unit
At East Hunsbury we are proud to be an inclusive school and reading is integral to the teaching and well-being of our children in the Special Unit. Due to the complex and diverse needs of every child in the unit, all reading approaches and resources have to be tailored carefully to each child. Teachers in the SU are skilled at employing a range of approaches to improve the reading lives and life chances of the children who attend the unit. Regularly opportunities to share stories and read with children in the mainstream are planned in and celebrated.
How is reading assessed?
During each Talk for Reading unit, mini assessments are built in.
Each term in Years 2-6 your child will sit an NTS reading assessment (this is a little booklet for the children to read and then answer some questions on).
In Years 2 and 6 your child's reading will be further assessed using national exemplification materials.
In Year 6 your child will sit a reading SAT (Standardised Assessment Test).
Your child will be heard read on a 1:1 basis regularly.
We want our focus to be on the teaching of reading rather than endless assessments but we will periodically take time to see how your child is doing through an assessment and if ever we need to do more assessments we will. We are always guided by your child's needs and will adapt our teaching and approaches as necessary.
Maths
Here at East Hunsbury, our daily Maths sessions empower children to problem solve, reason and embrace a love for Maths. They have the opportunity to develop mathematical concepts, improve fluency in calculation and apply their mathematical knowledge to the wider curriculum. Please refer to the EHPS Teaching for Mastery document in the side bar opposite, for everything you need to know about the teaching of Maths in our school.
From early years, the children at EHPS are fully immersed into the world of Maths through exposure to number and this is delivered in a creative and engaging way. This passion for Maths continues across the school continues where we design and deliver exciting lessons to promote that love for learning.
Our children are encouraged to explore Maths through the use of concrete apparatus to support their learning of new concepts. This then progresses into the children working pictorially, followed by children working on abstract representations. Maths is a subject that we want all children to love and be successful in. We are dedicated to ensure that children feel this approach in all year groups.
To assist your child with Maths at home, please see our calculation policies in the side panel of this webpage, which outline the process and mathematical vocabulary that the children will be experiencing within school. This can be very useful when supporting your child. Your class teacher is always available should you have any questions about ways in which to help your child learn Mathematics.
Science, Geography, History and RE
Please refer to the NPAT Long Term Maps and Knowledge Organisers in the side panel opposite for specific curriculum information with regard to these topics.
RSHE
Our PSHE Policy can be found in the side bar of this webpage (scroll up - on the left). Additionally, please click here to access current Government Guidance regarding Relationships and Sex Education (RSE) and Health Education.
Inclusion Policy
Our rich and varied curriculum is accessible for those with disabilities and/or special educational needs. Please refer to our Inclusion Policy (Incorporating SEN Report) which can be found under the Key Policies section of our Key School Information webpage.